Posted on
By E. Yoo + RJH
Posted in boudoir, Christmas, christmas gifts, christmas looks, gifts, holiday pajamas, Lingerie, Mrs. Claus, New Year, Simone Perele, thong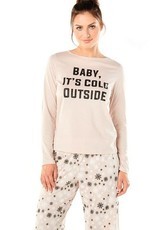 Christmas Looks: One of the great pleasures about the holiday season is getting to dress up for all the parties and festivities. But what you're wearing underneath is just as important, especially when it comes to surprising your beau in the boudoir
One of the great pleasures about the holiday season is getting to dress up for all the parties and festivities. But what you're wearing underneath is just as important, especially when it comes to surprising your beau in the boudoir.
Whether you're on the naughty or nice list, here are different options to spice up your wardrobe on Christmas:
1. Mrs. Claus-inspired red: Think red lingerie with white fur trimming and experiment with different textures such as silk or velvet. Add a Santa hat and white fur cuffs to finish the look.
Just like ... Simone Perele Look Collection Lace Band Thong Red Large: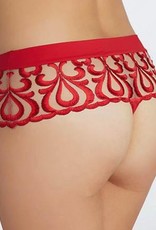 2. Snow-white: For something less costumey, white is always a great option: whether you have a white Christmas or not, this color brings snow to your bedroom and has more of an innocent, angelic feel. A great plus is that you can wear it year-round.
Check out the Cosabella Holiday L/S Tee and Pant Pj SET to fulfill this one!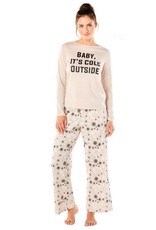 3. Green: Something less predictable, green is another color associated with Christmas and its fresh, bright color will make the night cheerful. However, a jewel tone green such as emerald or forest green is a more mature, sexy alternative.

4. White and red: Inspired by candy canes, this color combination is a a delectable treat. Try pairing a red teddy with warm, knee-high white stockings.

5. Bows and ribbons: Since you are the greatest gift of all, the idea is for your parter to "unwrap" you so why not go for lingerie with ribbons and bows to bring your night to a fever pitch.

6. Silver tinsel: Silver aluminum Christmas trees, a staple of the Atomic Age, are back and you can take inspiration from them and incorporate their retro flashiness: try silver shimmery satin or if you want something more subdued, gray works as well—just make sure it has some metallic details.
This look can also be worn to celebrate the New Year!